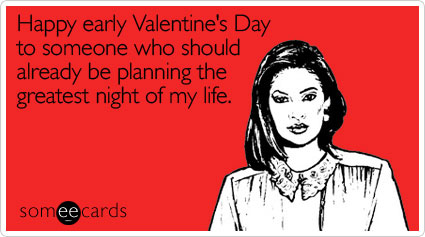 What's that you say? It's some fake holiday manufactured by greeting card companies to make us all feel bad about our relationships or lack thereof?
Well first, it was not manufactured by greeting card companies. According to Wikipedia (which is, by the way, the level of fact-checking that I'm willing to put in for this kind of blog):
The day is named after one or more early Christian martyrs named Valentine and was established by Pope Gelasius I in 500 AD. It was deleted from the Roman calendar of saints in 1969 by Pope Paul VI, but its religious observance is still permitted. […] The day first became associated with romantic love in the circle of Geoffrey Chaucer in the High Middle Ages, when the tradition of courtly love flourished.
In terms of making us all feel bad about our relationships or lack thereof, well, I think that possibility is out there.
Now is when I admit shameful and uncool things: I really like Valentine's Day. Not the part in which no one gives you a carnation in 6th grade, that part sucks.* But the part in which your family gives you chocolates and sends you cards and you make weird Valentine's for your friends and tell them you love them is really, really nice.
The other part of Valentine's Day that sucks? Feeling obligated to go out to a fancy restaurant and eat a fancy meal with a gazillion other people during which you are required to Be In Love and Super Romantic. Dave and I have been together for eight years now** and if I have learned nothing else, it is that events in which you have to be Very Romantic and Super In Love do not often work out the way you want them to (see also: Romantic and Rainy Night during Romantic Portugal Vacation that resulted in a large and messy argument about umbrella-holding that has left us mostly unable to walk comfortably together under a single umbrella eight years later). I can't offer great advice for people who are single on Valentine's Day, but I can say this: being in a relationship or having a date on Valentine's Day does NOT guarantee you a non-depressing Valentine's Day.
Here is my recommendation: Send Valentine's Day cards to your friends and siblings, ideally with chocolates. Make some cookies for your coworkers (assuming you like your coworkers). Cook dinner at home.
Cooking dinner at home means different things depending on where you're at in a relationship. No matter what, though, I think you want the meal to be special but not stressful. Cook something that you feel comfortable making. Your date will be watching you cook, and it is uncomfortable to watch someone cook when they're panicked and nervous. If it makes you feel better, do like they do in cooking shows and get everything ready ahead of time so all you have to do is dump the prepared items into the skillet (or oven, or whatever) in a simulation of cooking.
Second, have a plan. Think through when you're going to prepare the different parts of the meal so that it's all ready at around the same time. It's totally fine to make components ahead of time and reheat. It's also fine to go to a fancy store and buy a particularly lovely tart for dessert. If you really, really don't cook, go to someplace super fancy and buy some prepared pasta and sauce (good option in Portland: Paciarino).
Have wine (if you and your lady- or man-friend drink) and things to eat while you're preparing dinner. Cheese, crackers, olives— all of these things would be appropriate. Put them on a fancy plate. Even if you live together, and have lived together for a long time, fancy plates are more special than the scuzzy blue cutting board. I promise. Similarly, olives look nicer if they aren't in the clear plastic tub that you bought them in. If you serve olives, have a little dish for the olive pits.
It's nice if you have flowers, too. Do not buy roses. Peonies, lilies, ranunculus, tulips, all of those are lovely and communicate that you understand that the person you are cooking for is him- or herself a unique and special flower. Red roses communicate that you felt obligated or somehow moved to buy flowers but without actually understanding or caring about the unique and special flower-ness of the person you are with, so you bought the same thing that everyone else bought, at an enormous markup. Red roses are the equivalent of buying a heart necklace from Kay Jewelers.
I was going to list potential recipes, but you know, I think the best thing is to figure out what your man- or lady-friend likes to eat (steak? scallops? cauliflower? french onion soup?) and make that. Be sure you have a full meal, including a salad or vegetable. And be sure you have dessert. It is fine to buy a dessert, but if you do, make it special, not just the two-bite brownies from Whole Foods (unless they are your man- or lady-friend's FAVORITE, in which case, get some nice ice cream to go along with).
A few notes: do not make casserole, which is the least romantic thing in the world, no matter what. Stay away from burgers. Dave suggested that lamb burgers might be appropriately classy, but lamb burgers will make your whole apartment smell gamey for a long time, which is not conducive to romance. Also, dim the lighting a bit. Eating under super-bright lights is, again, not terribly romantic. On the other hand, if the lighting is very dim it can look like you're trying really hard, which is not what you want. So, do the best you can.
Godspeed.
* Oh, you're the one that received ten carnations in 6th grade, nine of which were red and one pink? Perhaps some day you can tell me what it was like to have peaked in middle school.
** Bonus: the eight year anniversary of when we met was last month and we both forgot until a week or so ago, which is a record for us. Dave is now denying that he forgot, and says that he got me love, packaged daily, for our anniversary, but I just didn't notice it. I think he's lying.